| | |
| --- | --- |
| Kiss My Axe! | |
STANDING IN THE RING: STATISTICS & INFORMATION...
NAME: Sheamus O'Shaunessy

HANDLES: SOS, THE IRISH CURSE

HEIGHT: 6ft 6in / 198 cm

WEIGHT: 20 Stone / 280 lbs / 127 kgs

PROFESSIONAL DEBUT: MAY 2002

SIGNATURE MOVES: The War Sword, The Frenzy. The Irish Curse

FINISHING MOVE: The F.R.H. (The Fiery Red Hand)

MANTRA: I've Always Been, I'll Always Be, COME WITH ME!!

TITLE BELTS: 2 Time IWW Heavyweight Champion
GENERAL SOS TRIVIA...
He hails from Cabra on the good old Northside of Dublin but grew up on North Great Georges Street in a 200+ year old Georgian house.

He's a natural ginger-nut and he even has the freckles to prove it!

He is a fluent Irish language speaker having attended Scoil Caoimhin Primary & Secondary School.

He sang in the Palestrina Choir until the age of thirteen, appearing on the Christmas Late Late Show once and Live at Three twice.

He played Gaelic Football for Erin's Isle and Rugby for The National College of Ireland.

He took the role of Darth Vader on a promotional tour for the Star Wars Episode One movie in association with LucasFilm ® & Aiken Promotions after being spotted by Peter Aiken who was looking for big guy to fill Darth's boots!
He has provided Personal Security for U2's Bono on several occasions and also Denise Van Outen.
He picked up his nickname "The Irish Curse" wrestling in the USA in 2002 after taking down a few opponents behind the referee's back with lethal low blows to that vital area where the sun-don't-shine! In Boston & New York The Irish Curse phrase refers to a guy who has had too much alcohol to perform in the bedroom department and was also used in that context in the movie Good Will Hunting. Wrestling had The Irish Whip, now it has The Irish Curse!

He carries a 6 inch raised scar on his left shoulder resulting from an impact with a badly padded Ring Post and exposed Turnbuckle early on in his career.

He appeared on the Podge & Rodge TV show St Patrick's Day special in 2005 along side George McFly. The two dressed in fake beards and green suits and partook in a spot of live Leprechaun Wrestling!
He got talent spotted for a role in violent Irish movie 3Crosses after the film's producer, Jonathan Figgis, spotted him at a title match against Drew Galloway in The Laughter Lounge, Dublin in 2006.
While shooting 3Crosses Sheamus' co-star Hytham Martin forgot to pull one of his punches with a metal chain wrapped around his fist leaving a two inch gash across the bridge of the Champ's nose!
Internationally renowned Irish artist Jim Fitzpatrick, the man who painted the world's most reproduced image of Che Guevara, is quoted as saying that Sheamus O'Shaunessy looks like the modern day embodiment of Finn McCool.
Before a WWE Dark Match with Drew Galloway at the MEN Arena in Manchester, Fit Linlay's side-kick Little Bastard joked that SOS was: "The most token looking Irishman I have EVER seen in my life!" Bobby Lashley butted in saying: "Man, if you were any whiter you'd be transparent!"
At the Live Broadcast of WWE RAW at the MEN Arena in Manchester November '06, Sheamus was given the role of John Coachman's Security guard with the job of ejecting Shawn Michaels & Triple H from the ring ending in a mighty Pedigree on SOS from The Game!
The Mouth of the WWE, Jim Ross, in his First Blog of 2007 stated that Sheamus would be one of the "stars of tomorrow."J.R. made the bold statement: "If he is anything like Fit Finley I would sign him in a heartbeat."
Whilst choreographing & rehearsing the big fight scene for prison break movie The Escapist starring Joseph Fiennes & Brian Cox, Fiennes caught Sheamus with a full-force elbow in the mouth. The handsome actor was more shocked about the incident than a blood soaked SOS who just laughed off the blow. Ironically in the movie Fiennes is supposed to knock out Sheamus' character TWO TON's front tooth! Talk about method acting...
Dr. Anthony Lioi, a professor at Massachusetts Institute of Technology (MIT), instructed one of his lecturers to consider Sheamus O'Shaunessy's official website as a "Great Example of Transmedia Personality Promotion," concluding it was a "walking cultural studies article waiting to happen."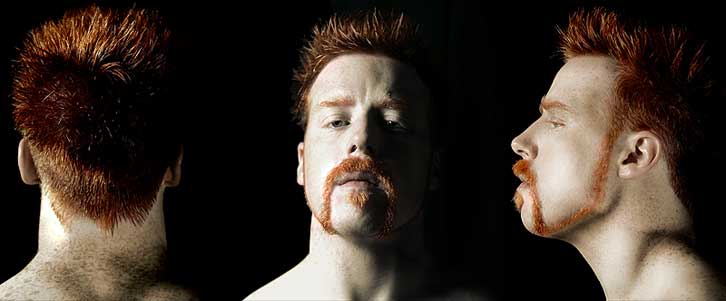 MORE THAN JUST A SYMBOL: THE CROSSOS...

Sheamus O'Shaunessy fights under the symbol of The Crossos which, is a combination of the Classic Celtic Cross and the Celtic Short Sword / Celtic War Sword.

The Crossos is a metaphorical illustration of SOS's natural origins with a hybrid of his lethal power and strong ethical center. All CLAN SOS members should adopt this symbol along with his Mantra and embark on this journey...

We are going all the way to the top!
CREDITS & ACKNOWLEDGMENTS...
Manager & Publicist: Ray Senior (Very Important Pictures), The Irish Curse Song Composers & Producers: Allen Doyle (Producer Naked Camera) & Fergal Davis (Producer The Republic of Loose), Costume Designer: Leah Burke (Personal Stylist Top Shop), Hair Stylist: Michael Doyle (Stylist Peter Mark), CROSSOS Broach Fabricator: Tanya Elliott Nyegaard (Dublin Art Foundry), Wrestling Boots: Stagecoach Wrestling Products (www.wrestlingboots.com), Tights: Linda Street & EZ Tights, Celtic Short Sword: Crests & Arms, Photographers: Gerry McDonnell, Tim McDonnell and Brian Malone.